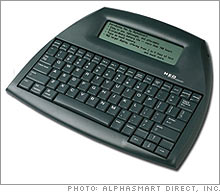 The Neo is a laptop that is intended to just be a word processor and that's it.  Why is this exciting?  Because you can write a paper or jot notes down on the lightest and most comfortable device, the Neo! 
Alphasmart created the Neo for the purpose of allowing students to focus on their school work without being distracted by the Internet, IMs, and games.  This $249 device has also been found very popular with writers due to the ease of use and the incredible battery life of up to 700 hours.  It weighs about 2-3 pounds and documents may be sent to a PC, Mac, or directly to a printer.
For those who want a little more functionality, you may purchase the $350 Dana device that will allow usage of Word, Excel, PowerPoint, and Palm applications.  This one weighs under 2 pounds and lasts 25 hours on battery.
This is a great device for writers and students.  It's cheap, easy to use, and compatible with your computer and printer.