If you thought Apple support folks couldn't possibly further improve the iPad, you thought wrong.  Our Apple experts have info that Apple is considering an 8-inch iPad Mini that would go for just $299.  This would really compete with the netbook crowd and make the tablet even more portable to carry around.
Let's talk sizes for a moment to put this into perspective.  The regular iPad is 9.7″.  The iPad Mini would be 8 inches.  The iPhone is just 3.5″.  If you're like me, I am always on my iPhone, emailing, browsing, and playing with apps.  What I'm trying to say is that if it's so easy and comfortable to constantly look at a 3.5″ iPhone screen, the 8-inch iPad Mini will be plenty big to view everything.
Pricing the iPad Mini at $299 would really undercut the netbook competition plus low-end laptops.  Playing at this price angle will really offer Apple tablets to all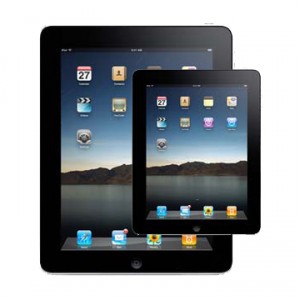 budgets.  The Apple service team did the same thing with Mac Minis.  Remember the little white cube that you can use as a desktop.  Apple was selling high-end Mac desktops for around $2,000.  Then, they astonished everyone by offering much cheaper $500 Mac Minis.  Although the price difference is not so vast with the iPad, it is still as big of an impact as the Mac Mini reduction.
Plus, decreasing the iPad screen size makes perfect sense.  It is perfect for kids who have smaller fingers and will be able to easily hold such a smaller size.  Also, this will directly compete with the smaller Kindle Fire and Nook tablets which have cut into Apple's share of tablets.  A smaller size will give more reason to have an iPad at home and one at work, especially with the iOS5 operating system allows totally syncing between devices.
A couple of other notable points.  It is expected that this iPad Mini will only store 8GB of space at the low end, $299.  16GB may be $100 more.  3G and Wi-Fi will be available.  The screen will still be 1,024 x 768 pixels so you can expect amazing resolution.
When?  The iPad Mini is expected to come out at the end of the year in Q4 for the holiday season or latest by beginning of next year in Q1.